We look forward to seeing everyone tomorrow! Just a reminder, breakfast is served from 7:45-8:05 a.m. First bell rings at 8:05 a.m. and instruction begins at 8:10 a.m.

The Glenwood School faculty and staff for 2017-2018. Proud to be Mustangs!

Open House is tonight! All parents and students are invited to drop in from 5:30-7:00 p.m. to meet your teachers and see your classrooms. Members of the Glenwood School Board will be serving free hotdogs and water. We look forward to seeing you!

Baseball camp for today has been cancelled due to rain. Coach Neldon will see you the first day of school!

New student enrollment will be held Wed., Aug. 9th and Thurs., Aug. 10th from 8:00 a.m. to 3 p.m. Check in at the front office to receive enrollment paperwork and meet our staff. We look forward to meeting you! Please share

Class rosters for grades K-5 are now posted in the school lobby. Students in grades 6-8 may pick up their class schedule and locker assignment at open house on Monday, Aug. 14th.

Back to School Supply List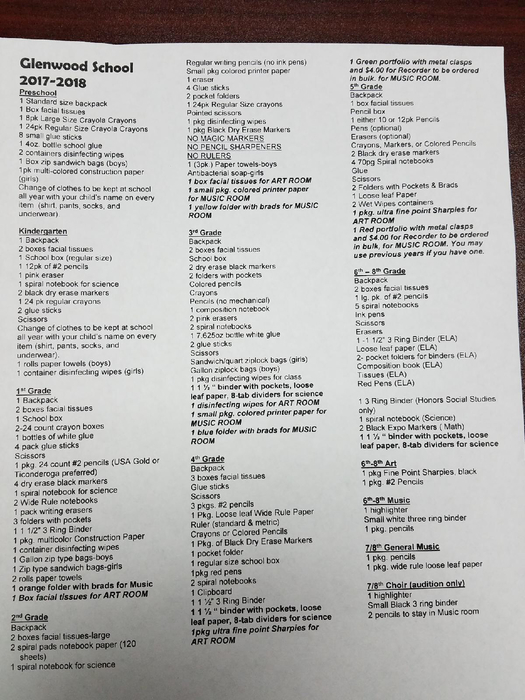 Open house will be Monday, August 14th from 5:30-7:00 p.m. School begins on Thursday, August 17th. We are excited to see everyone! Enjoy the rest of your summer vacation, and we will see you soon.

Glenwood School is a member of MOREnet as are most other area schools. The MOREnet internet loop is down and as we have a VOIP phone system phones are down too. We hope to have Internet and telephone services restored later today. Thank you!

All parents and grandparents are invited to join us for a free breakfast (cinnamon rolls, little smokies, and blueberries) and awards Wed., May 17th, the last day of school! The schedule is as follows: Breakfast begins at 7:45 a.m. and lasts until the food is gone. 4th-7th grade awards begin at 8:30 a.m. and 1st-3rd grade awards begin at 10:30 a.m. We hope to see everyone!

Field Day is tomorrow beginning at 12:30 p.m. Remember to dress for a warm day amd wear sunscreen. Parents are welcome!

Summer Boys Basketball Information: *Our first camp is May 25th in Norwood *Fundraiser will be at Faith Assembly (beside Hirsch Feed & Farm Supply) May 20th from 9 a.m. - 1 p.m. We will grill, have a bake sale, and a car wash. Everyone needs to sign up to bring one of the following: hamburgers, hot dogs, buns, chips, drinks, plates *June 30th camp is at West Plains, cost is $85. *PEE WEE Open Gym for grades 4-6 will be 9:30- 11:00 a.m. June 15th, 22nd, 29th, July 13th, 20th.

Reminder: 5th/6th Grade Conference Track Meet is Tuesday, May 9th. Our buses will leave at approx. 8:30 a.m. The meet will be held at Richards School's new athletic complex behind the Unemployment office in WP. There are no restroom facilities but portable restrooms will be provided. The concession stand will be open. Don't forget your lawn chairs!

8th Grade Awards Banquet is Thursday, May 11th. All 8th graders, parents and siblings are invited attend the meal beginning at 5:30 p.m. The school will provide the entrée, rolls and drinks. 8th grade boys should bring a side dish and 8th grade girls should bring a dessert. All 8th graders, parents, and extended family are invited to the awards ceremony, consisting of art, academics, and sports awards, beginning at 6:00 p.m. Sorry for any confusion. Please contact Mrs. Wright or Mrs. Hayes if you have any questions. Thanks!

Schedule alteration for 8th grade class: As you can imagine, being out of school for a week during the last two and a half weeks of the school year, causes some major reassessment of end of year activities. We have done our best to cancel and reshuffle as few as is humanly possible. However, some of the activities we had previously planned simply couldn't be pulled off with a week knocked out of the calendar. That being said, we have heard from several 8th grader's parents telling us that you really wanted the 8th Grade Awards Night to take place as originally scheduled, so we decided to make that happen. I take responsibility for any confusion that has taken place and apologize for such. Wayne Stewart

Attention 8th grade students and parents: Changes to the Schedule of Events for 8th grade Tuesday, May 9th – Track athletes will be working at the 5/6th conference meet and will need a lunch or can get one from the cafeteria. There is also track practice Tuesday night until 4:45 p.m. Wednesday, May 10th – 7/8th conference for track athletes. You will need a lunch or can get one from the cafeteria. Thursday, May 11th – Award night has been moved to different times. Pictures for Track, chess, math, and BETA at 2:00 p.m. Friday, May 12th – Last full day of classes – turn in all books. There will be a class award day (for art and sports awards) beginning at 2:45 p.m. in the gym. Monday, May 15th – graduation practice until 11:30 a.m., pizza for lunch. All 8th graders need to be picked up by 12:30 p.m. They also need to report to Mrs. Cawvey's room by 5:30 p.m. dressed in cap and gown. Awards and Graduation will begin at 6:00 p.m. in the gym. Tuesday, May 16th – Silver Dollar City trip – leaving at 6:00 a.m. and return 10:00 p.m.

Fine Arts Day will be Tuesday, May 9th. The art show will be open from 8 a.m. to 6 p.m. Student writing samples can be viewed after school until 6 p.m. Note: The band and choir concert has been cancelled.

Pictures for track, chess, math team, and BETA will be Thursday, May 11th, beginning at 2 p.m. Picture envelopes will go home today.

School will resume tomorrow morning. Secondary roads are still not in optimal condition so, if you don't believe that our buses can or should cross the roads or bridges necessary for the pick up of your student, please drop them off at school. Thank you for your continued patience as our entire state deals with the complications caused by historic amounts of rainfall.

Good afternoon. Due to extensive damage to area roads and bridges, school will be canceled through the remainder of this week. Classes will resume on Monday, May 8th. Thank you and please stay safe!