Summer Basketball Camp Information

Youth Track Meet Information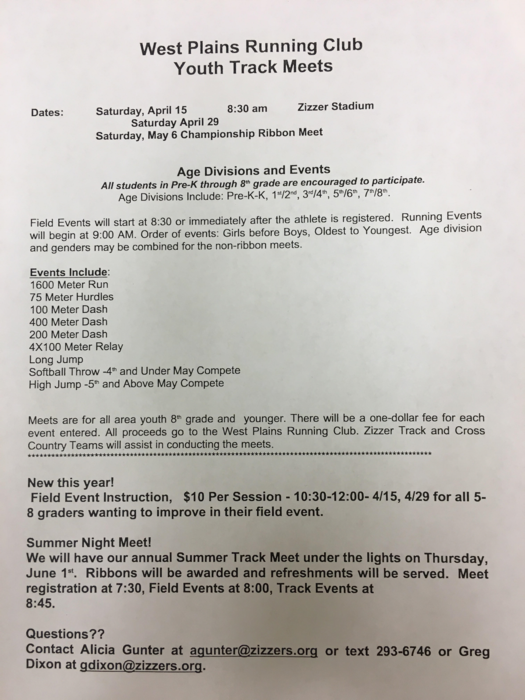 PTO/Title I Meeting Today! The monthly PTO meeting will be held today, Monday, April 10th at 4:00 p.m. in the Glenwood School library. The annual Title I evaluation meeting will be held immediately following. All parents are invited to attend!

The Art Around Town Exhibit is now open! Stop by the Civic Center to check out some amazing student artwork from area schools.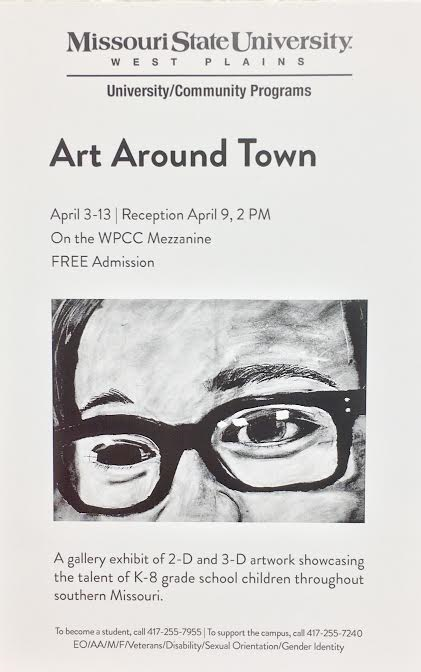 Glenwood's staff and faculty are greatly appreciative to our Parent Teacher Organization for providing us with Missouri and United States ceremonial flags which we plan to utilize in public gatherings at the school. PTO President Stephanie Cundall and Principal Karen Moffis are shown in the photo.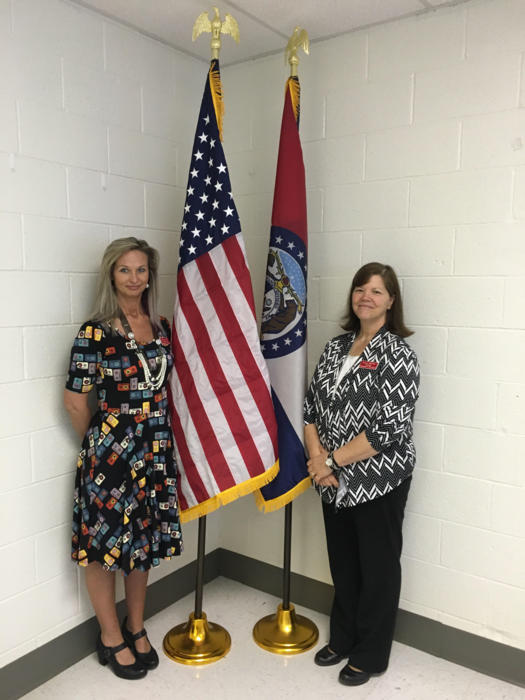 Chess Club Reminder: Thursday, March 23rd, the Chess Club will celebrate their year with a Potluck Supper from 6-7:30 in the Glenwood cafeteria. Please bring all medals/trophies earned this year for group pictures. For those attending, please let Ms. Smith know what you will be bringing.

Attention 8th graders: WPHS Cheerleading Tryouts will be held April 10-13 in the WPHS Cafeteria from 3:30 - 5:00 p.m. A parent meeting will be held Wed., April 5th at 5:30 p.m. in the WPHS Cafeteria.

Parents: Due to a "glitch" in our student computer system earlier this week, some students' assignments were lost or misplaced. We would like to assure you that no student's grade will suffer as a result of this unfortunate situation. We are working diligently to ensure that it doesn't happen again.

What an amazing job, Honor Band! All those hours of preparing have paid off, and you sounded unbelievable! Thanks to Mr. Miller and the GW Honor Band for all your hard work!


Join us this Wed., Feb. 15th at 10:30 a.m. at Glenwood School for the annual West Plains Area Middle School Honor Band performance. Students from the area rural schools and WPMS will perform a variety of pieces. It will be an amazing performance!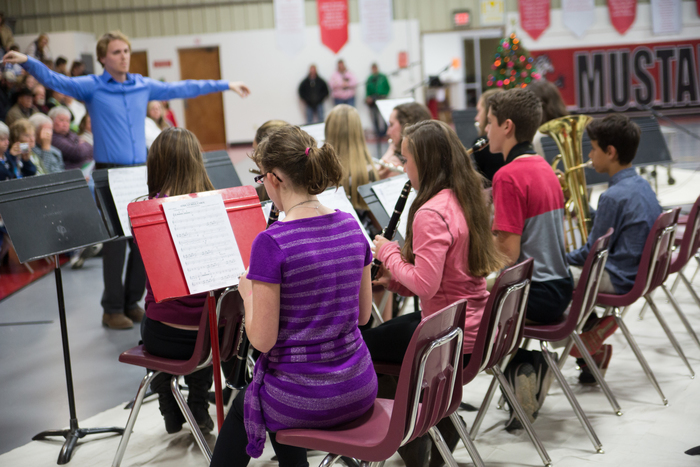 Pre-School and Kindergarten Screening Dates! Call 256-4849 to schedule your visit. Pre-School - Thurs., March 16th Kindergarten - Fri., March 17th Please bring your child's shot record, birth certificate, and proof of residency.


Reminder to all A and B Team Basketball players: Please return your uniform by Thursday, Feb. 2nd. The uniforms are needed. Thank you.

Tonight is Family Literacy Night! Registration and book report project viewing begin at 5:00 p.m. Classroom read-alouds start at 5:30 p.m. There will be door prizes, a scavenger hunt, hot cocoa and cookies!!!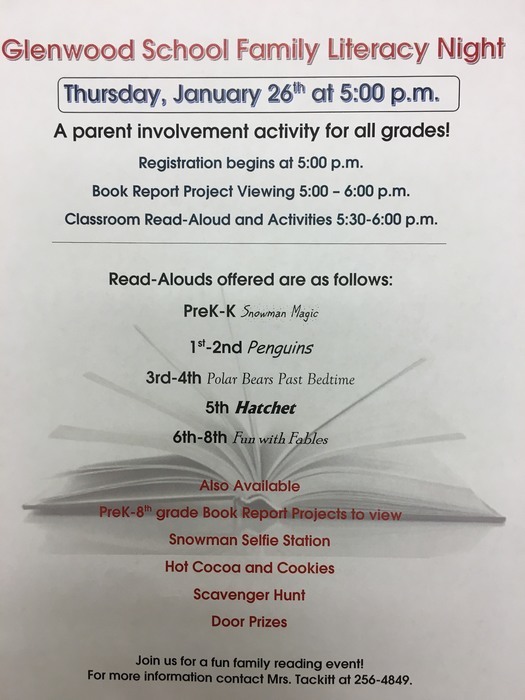 Reminder: The West Plains High School will host an 8th grade parent meeting in the Glenwood School library at 6:00 p.m. tonight. All 8th grade parents and students are invited to attend.

Join us for Family Literacy Night this Thursday, Jan. 26th at 5:00 p.m.!

PeeWee Basketball Practice Reminder! Boys will practice Tuesday, Jan. 24th until 5:00 p.m. Girls will practice Thursday, Jan. 26th until 5:00 p.m.

Glenwood School Family Literacy Night is Thursday, Jan. 26th at 5:00 p.m. All are invited to join us for read-alouds and fun activities for all grade levels!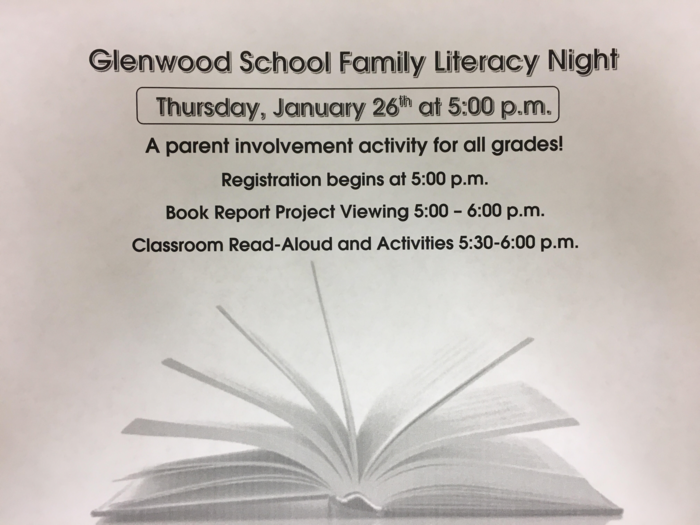 Reminder: There will be NO SCHOOL Friday, Jan. 13th and Monday, Jan. 16th. We will see you back at school on Tuesday, Jan. 17th!

Girls and Boys Pee Wee Basketball February calendar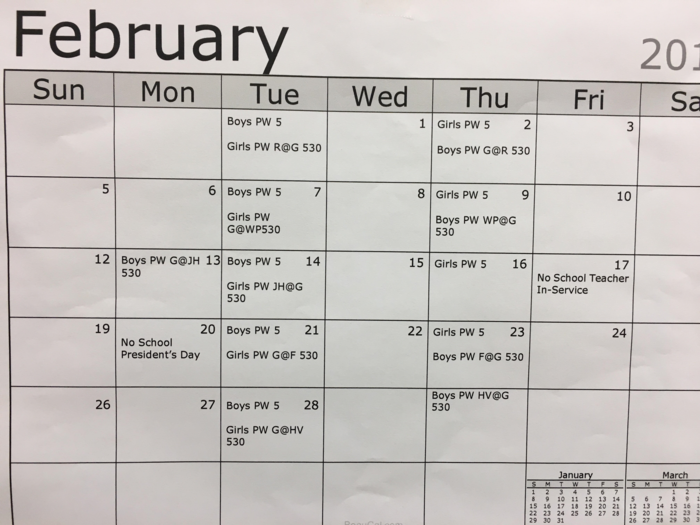 Pee Wee Basketball participation forms were sent home today. All students in grades 4-6 interested in playing PeeWee Basketball need to return the form to Coach Browning by Tuesday, January 10th.